South Carolina Music Teachers Association
is dedicated to furthering the art of music and to promoting the growth and professional development of its members through programs that encourage and support teaching, performance, composition, and research. Organized in 1960, our non-profit organization is affiliated with Music Teachers National Association. Please browse these pages to learn about our activities and opportunities for members and their students.

---
Join us for our Fifty-fourth Annual Conference, featuring pianist Lucille Chung and clinician Ingrid Jacoson Clarfield.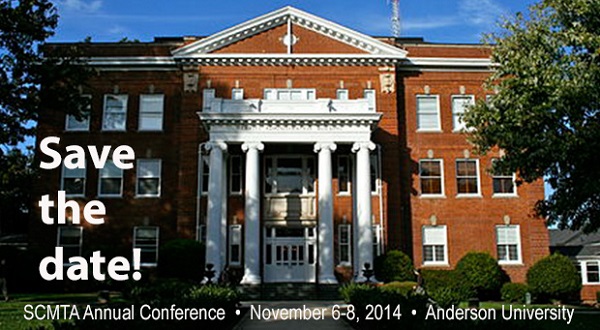 SCMTA is accepting student proposals for research posters and for a conference session to be presented at the 2014 Annual Conference at Anderson University, November 6-8.
The call for proposals is open to all South Carolina undergraduate and graduate college-level music students. Proposals on research-related subjects are encouraged and acceptable, as are pedagogical subjects including teaching methodology, technique, literature reviews, etc. Students in all instrumental areas including voice are welcome to submit a proposal.
One student will be selected by a committee to present a thirty-minute session. The committee will also select papers and projects for the poster session.
Deadline for submission is 5:00pm on October 1, 2014. Presentation day is November 7, 2014.